Orthodontics Treatments in Ann Arbor, MI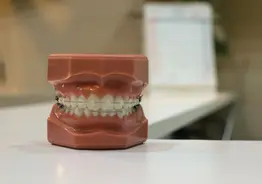 Orthodontics refers to a specialized branch of dentistry which corrects poor tooth positioning and improper jaw alignment. This treatment is used to correct both cosmetic issues and problems with chewing function. Genetics and growth rates of your oral structures contribute to alignment problems and crowding.
Your Ann Arbor Family Dental, P.C. orthodontist will evaluate your jaw and tooth alignment by using the latest technology including comprehensive x-rays of your jaws and supporting structures, then will formulate a treatment plan designed to correct your cosmetic and functional issues and provide you with your new straight smile.
Orthodontic treatments can correct issues including:
Moving crowded or overlapped teeth to give you a cosmetically beautiful smile
Restoring good chewing function by correcting poor bite alignment
Closing gaps or spaces between teeth for a great smile
Positioning twisted or rotated teeth correctly to prevent excessive wear

Now, thanks to modern dental materials and techniques, your orthodontist can offer a number of options to correct jaw issues and straighten your teeth. You can choose from:
Invisalign or ClearCorrect clear aligners, the virtually invisible method of straightening your teeth using clear plastic trays called aligners.
Conventional orthodontics, using metal brackets and wires; this is what most people think of when they hear the term "braces."
Conventional orthodontics, using tooth-colored or clear brackets and wires; this method provides a more cosmetically beautiful look.
Lingual braces, which are cemented to the tongue sides of your teeth for better aesthetics.

Orthodontic treatment for adults can begin at any time. Just remember it may take a little longer to gradually move your teeth, but you are never too old to benefit from orthodontic treatment.
Orthodontic treatment for children should begin when your child is seven years old because the first permanent molars have erupted, allowing your general dentist or orthodontist to fully evaluate jaw movement and tooth alignment.
Do you want straighter teeth, or have a child ready for orthodontics? Call Ann Arbor Family Dental, P.C. in Ann Arbor, MI at (734) 761-7830 today!